November Green news
---
General info and updates
Governments are at best slow to act, businesses are as powerful as governments but are beholden to their investors and generally prioritise short-term profit over long-term sustainability – hope for Creation is not coming from government or from business.
But it is possible that faith communities in general, and the Christian church in particular, are uniquely placed to take on this challenge. The church can be found in every country on earth with members at every economic level, and in every slice of society. The environmental crisis is broadly recognised as a crisis of ethics, and the ethical principles necessary to combat environmental abuse and to promote healing of creation are baked into the Bible; "Creation care is a gospel issue." In terms of infrastructure – think of all the Christian relief organisations in existence that could be mobilised to help.
When our loved ones are sick, we take them to the doctor, and we pray for healing. Creation is sick; we need scientists, but we also need to go before the throne in prayer. This is one power we have that the rest of society does not. After all,
…if my people, who are called by my name,
will humble themselves and pray and seek my face
and turn from their wicked ways,
then I will hear from heaven, and I will forgive their sin and will heal their land.
(2 Chronicles 7:14)
Creation is indeed in crisis. Will the church lead the way in a new direction? It's up to us; that's the purpose of PCGA – to encourage churches to take the issue seriously; as someone said recently "Church leaders are sleep walking into a disaster, more concerned with saving 'souls' than saving lives." Saving souls is of course important, but we are also commanded to care for His Creation which in turn cares for His beloved people.
~~~~~~~~~~~~~~~~~~~~~~~~
It's the time of year when we encourage you not to buy or use the endless bits and pieces of plastic that make up Christmas decorations, and the glitter that adorns cards. Many people simply have never thought of glitter as a very small piece of single-use plastic which inevitably ends up in the water system. The good news is that some supermarkets, including Morrisons, Waitrose and John Lewis have pledged not to use glitter on their own brand cards and paper this year.
Another thing that happens at this time of year is the transfer of many of our favourite chocolates and sweets from boxes or tins to plastic tubs. Well, here is an answer to how we can dispose of them in an environmental way and raise money for charity at the same time.
Last year DCW's (Devon Contract Waste) Recycle & Raise campaign was hugely successful; they recycled over 15,000 tubs and reached over 250,000 people online! Having raised over £1,200 for Dartmoor Zoo last year, they have high hopes that this year will be even bigger and better!
Their chosen charities for this year are Dartmoor Zoological Park and Mind – a mental health charity.
What Can They Recycle This Year?
Confectionery tubs
Ice cream tubs
Cracker tubs
Milk bottle tops (plastic)
Takeaway containers (plastic)
Look for the number 5 or PP symbol on the container!
All materials donated to Recycle & Raise will be sent to their plastic reprocessing centre in Exeter, where they will shred the plastics and sell them on to manufacturers in the UK, to use in place of virgin polymers. All profits raised will be donated to the two chosen charities, Dartmoor Zoo and Mind.
The link to find local collection points is here  maybe your church could arrange to collect some of these things and drop them off for people who have no transport?
~~~~~~~~~~~~~~~~~~~~~~~~
There's no doubt that 2020 has been a tough year for many of us. The pandemic has affected our health, livelihoods and the way our society functions. But there is a way to build back better that protects our communities and our planet – now and into the future.
The pandemic has changed everything about the way we live and work. As winter approaches, the Office for National Statistics has reported rising unemployment – and this will only get worse unless the government acts. In fact, according to a new report by 
Build Back Better UK
, almost two million jobs could be lost forever as a result of the pandemic.
But mass unemployment is not the inevitable end result. The UK Government has an opportunity to invest in our future by prioritising a new type of economy – a green economy. According to Build Back Better UK, investing £68 billion over the next two years would create 1.2. million new jobs, strengthen our infrastructure and services, and help to fight the climate crisis.
If you agree then please consider signing this 
petition calling on the Prime Minister
 to protect us now by investing in a greener future and share with your friends / families and congregations if you feel it is appropriate.
~~~~~~~~~~~~~~~~~~~~~~~~
Plymouth Energy Community have launched a Crowdfunder to raise £25,000 for a year of FREE creative climate action activities in Plymouth and the far Southwest.
Moths to a Flame is a mass participation art and energy project. Its aim is to take your voice to World Leaders at the COP26 climate conference in Glasgow, 2021.
A collection of moths is called a 'whisper' and they want to create a giant whisper that will turn into a roar for change. To do that, they'll be making digital and hand-made moths with people to carry their thoughts on the climate emergency and record their words too. There are activities anyone can join in with – from home, from school and in the community.
Find more information or make a pledge on Crowdfunder – it is possible to a
dopt a solar panel and join Plymouth's own 'solar system'! Or claim various other rewards including an illustrated children's book, following Marny the moth's story, a recycled acrylic Moth pin badge, an etched glass moth coaster amongst many other options,
~~~~~~~~~~~~~~~~~~~~~~~~
Pope Francis's recent encyclical, 
Fratelli Tutti 
makes interesting reading – he describes it as for all people not just catholics and indeed it is  – here are some extracts:
'Anyone who thinks that the only lesson to be learned [from the pandemic] was the need to improve what we were already doing, or to refine existing systems and regulations, is denying reality.'
'To care for the world in which we live means to care for ourselves. Yet we need to think of ourselves more and more as a single family dwelling in a common home. Such care does not interest those economic powers that demand quick profits. Often the voices raised in defence of the environment are silenced or ridiculed, using apparently reasonable arguments that are merely a screen for special interests.'
And speaking from the parable of the good Samaritan – 'One detail about the passers-by does stand out: they were religious, devoted to the worship of God: a priest and a Levite. This detail should not be overlooked. It shows that belief in God and the worship of God are not enough to ensure that we are actually living in a way pleasing to God. A believer may be untrue to everything that his faith demands of him, and yet think he is close to God and better than others. Paradoxically, those who claim to be unbelievers can sometimes put God's will into practice better than believers.'
To read the whole document see here
~~~~~~~~~~~~~~~~~~~~~~~~
Pollenize
 – the local Community Interest Company have launched a Crowdfunder – working with Plymouth City Council and Green Minds, they want to give a packet of wildflower seeds to local schools and school children, but be quick – the crowdfunder closes at the end of this month.
~~~~~~~~~~~~~~~~~~~~~~~~
Do you find it easy to pray about the climate emergency? It can be overwhelming to read about record-breaking storms, floods or droughts – and to know that millions of people created in the image of God are suffering. But as we engage with the climate crisis, it's important we keep our eyes fixed on God: Creator, Sustainer and Redeemer.
To help focus our prayers, Tearfund launched a new initiative at the start of this year: a regular update via WhatsApp with specific prayer points about the climate crisis. It started with just a handful of peop
le, but now there are hundreds of people, right across the UK, uniting in prayer every week.
To sign up to receive prayer points every one to two weeks, add their number 07916 874441 to your phone's contacts and text 'PRAY' via WhatsApp. 
---
Some good news:
A bit belated, and obviously part of a marketing strategy, but never-the-less good news. Honda recently ranked Plymouth as the 2nd greenest city in the country. – to find out what critera they used and why we missed out on first place see the 
full article here
---
 

Some less than good news
A review into Fast Fashion brand Boohoo's supply chain has again confirmed Labour Behind the Label's findings that wage theft and poor supply chain governance are rife in Boohoo's Leicester factories. Boohoo's response stated that they will do more to audit factories and they plan to publish their supplier list within the next few months. The campaign continues. Meanwhile news sources have stated that £27m is owed to underpaid workers in Leicester. You can read more of the report here.
---
Upcoming  events / dates for your diary 




If you are hosting any relevant events you would like us to help publicise please let us know in time for inclusion in the ENews
Sunday 22 November, 10am – 3pm A Festive Upcycled Market at The Butcher's Hall, Tavistock with an array of exhibitors selling upcycled & recycled goods. Coffee & cake bar on site. FREE entry. For more information or to confirm it is going ahead please email Miss Ivy's Events or check out their website
Saturday 28th November, 6 – 7 pm – Plymouth University is hosting a Futures2020 Big Family Quiz – a fun evening of brain teasers for all the family, hosted by historian Professor James Daybell, Associate Dean of Research at the University of Plymouth and co-creator of acclaimed, alternative history podcast 'Histories of the Unexpected'.
Join in to test your knowledge of the world around us, featuring mind boggling facts about topics ranging from marine life and the history of pandemics to plants and the human body.
This event is suitable for all the family and is free to access online. Please book your place via this link.
Wednesday 9th December, 6pm – 7pm, Green Minds event – Take Action for Wildlife in Plymouth
Join this online workshop – help us develop nature-based volunteer opportunities across Plymouth and let us know how you would like to get involved!
Register your interest here
Friday 11th December 2020 – 9.45 for 10am start Food Plymouth Partnership and Network meeting via Zoom.  Sharing all the food news in and around the city. Everyone welcome and enquiries encouraged – see the Food Plymouth website for ore information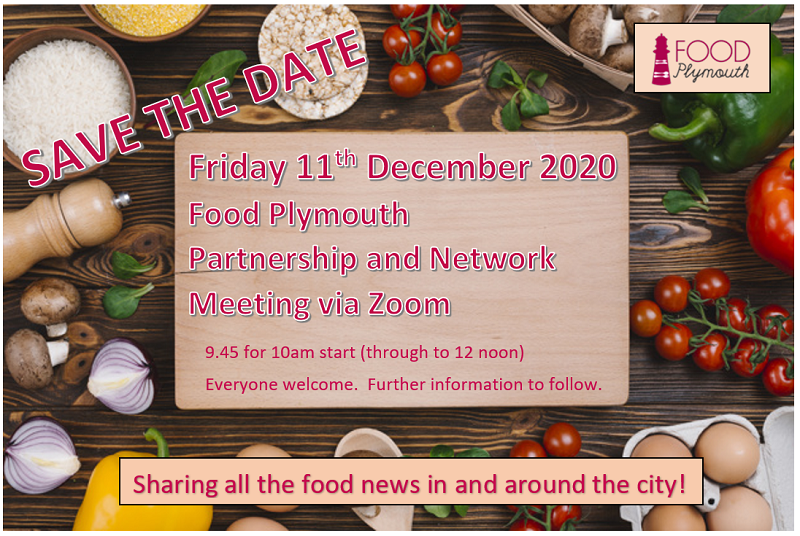 Wednesday 16th December, 6pm – 7pm, A Green Minds event – Plymouth Rewilding Network
Are you part of a rewilding activity, would like to start one or find out how to take action? We know there are many individuals, businesses and groups already taking action for wildlife across the city. Join this online workshop to help us map, connect and expand this activity to create a rewilding network for Plymouth!
Register your interest here
---
Information links
We will aim to only send you information once about a particular website or organisation that maybe of interest to some of you; you are then invited to subscribe yourself so that we do not duplicate information which can be off-putting
Across the world today, men and women are faithfully stewarding God's call as leaders and people of influence in organisations, churches, schools, and marketplaces. What would happen if these men and women were to gather together to form God-inspired, catalytic connections within and across regions, generations, shared interests, and ideas? This is the unique calling of the Lausanne Movement: to connect influencers and ideas for global mission.
As mentioned at the start of this email Stewardship of God's creation (creation care) is a clear Biblical command and an integral part of what it means to follow Jesus as Lord.
See their website for more information and the option to subscribe to their mailing list
And finally….
One of the prayers that concludes the Pope's encyclacle:
Lord, Father of our human family, you created all human beings equal in dignity: pour forth into our hearts a fraternal spirit and inspire in us a dream of renewed encounter, dialogue, justice and peace.
Move us to create healthier societies and a more dignified world, a world without hunger, poverty, violence and war.
May our hearts be open to all the peoples and nations of the earth.
May we recognize the goodness and beauty that you have sown in each of us, and thus forge bonds of unity, common projects, and shared dreams.
Amen.
As always, please do let us know any hints and tips you have to share with others, and any relevant events for us to publicise.
We welcome feedback on what's included in these emails.
What do you like? What would you like to see more (or less) of?
Are they useful / helpful?
How can we achieve our aims of engaging churches better?
Let us know…
If you are a minister or administrator of a church and prefer to nominate a Green Champion to be your church's point of contact then please let us know who that person might be….
About us
Plymouth Churches Green Action was founded in 2017. Our vision is for churches of all denominations in and around Plymouth to care for creation in five key areas of church life:
• Worship and Teaching,
• Building Management
• Land Management,
• Community and Global Engagement,
• Lifestyle
as an integral part of loving their neighbours and following God faithfully.